Standard ULTRA™ Waist Bag
Regular price
Sale price
$90.00 AUD
Unit price
per
Sale
Sold out
A great way to have easy to access gear for hikers on the go. Ideal for storing snacks, head-torch, phone, emergency beacon or first aid items.
Constructed from various weights of ULTRA™. It's the strongest, most abrasion resistant fabric available at this weight (the ULTRA ™ 100 is the same weight as hybrid DCF). Mesh on the ULTRA 100 is Venom UL the toughest UL mesh at this weight. The mesh on the 200 and 400 is a heavier Dyneema mesh. All seams are taped with TNT Ultra PSA tape for maximum water resistance..
Designed to be worn at the front in conjunction with a pack. Its a good alternative to hip belt pockets.
The waist bag is reasonably weather resistant but I would recommend placing any moisture sensitive equipment inside a Ziploc bag for added protection.
Available in ULTRA ™100, 200 and 400.
Note: the ULTRA 100 uses a lighter weight mesh than the heavier duty ULTRA 200 and 400.
Materials:
Fabric body: Challenge ULTRA™ 100, 200 or 400
Fabric wings: Challenge ULTRA™ 200
Zip: YKK Aquaguard #3 water resistant zip with two sliders
Strap: 20 mm milspec nylon
Buckle: 20 mm Kross lightweight buckle
Mesh: ULTRA 100 Venom UL UHMWPE, ULTRA 200/400 Dyneema mesh.
Seams are taped with DCF.
Specifications:
Dimensions: (L) 21 cm X (H) 12.5 cm X (D) 6 cm
Approximate volume (not including mesh pocket): 1.6 L
Weight:  ULTRA 100 55g, 200 61g, 400 64g
Maximum strap length: 120 cm
A note about  approximate volume.
Measurements are as exact as I can make them but volume is generally understated. Volume is calculated using the products dimensions and a volume calculator. Approximate volume does not take into account that fabric items bulge when stuffed full, therefore "real world" volume will be slightly larger.
Share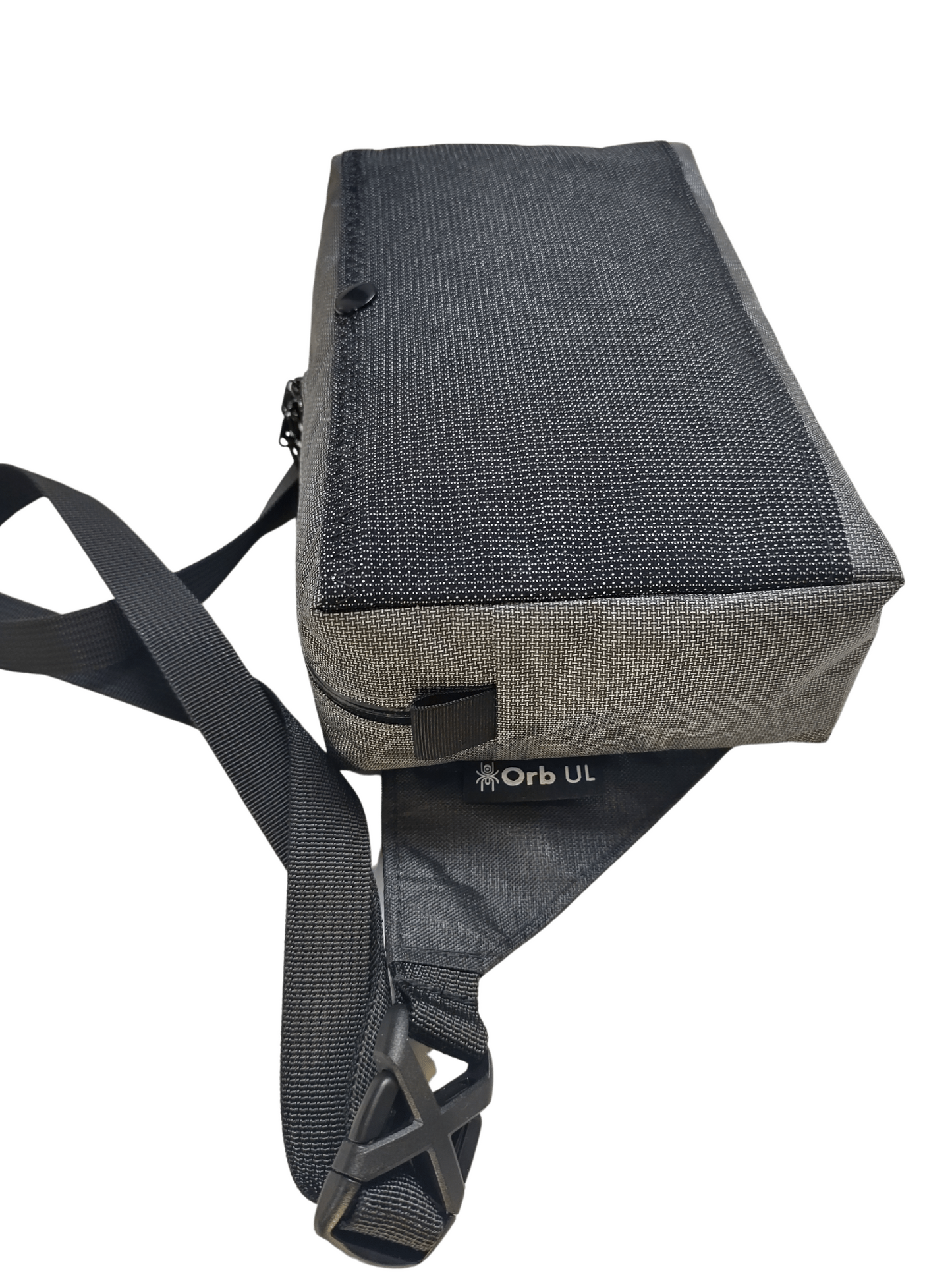 Awesome in every way!
Excellent craftsmanship, ultra lightweight, perfect size which fits my 500ml nalgene, snack and first aid. My sunnies love being protected from scratches in the mesh pocket when not used. Could also fit a phone in the mesh section if needed.
So light and roomy
I was today years old when I found out how awesome bum bags are, although I had a few in the 90s.